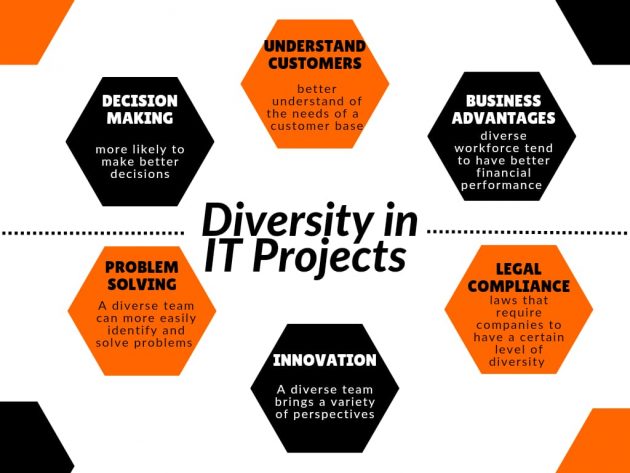 Companies have already recognized the importance of, and urgency behind, joining the conversation and taking action to make progress on Diversity which refers the condition of being different or having differences. Differences among people with respect to age, class, ethnicity, gender, health, physical and mental ability, race, sexual orientation, religion, education level, job and function, and other human differences, as defined by the Harvard Diversity, Inclusion, and Belonging Glossary of Terms.
In this article, we will focus on why Diversity is important in IT projects. We are also aware that Diversity doesn't stick without Inclusion. The crucial connections that attract diverse talent, encourage their participation, foster innovation, and lead to business growth won't happen if Inclusion wouldn't be part of mechanism.
Below we have listed several reasons to understand importance of having differences in in IT projects:
In conclusion, diversity leads to increased innovation, better problem-solving, improved decision-making, better understanding of customers, business advantages and legal compliance. A diverse team can bring a variety of perspectives and experiences to the table, which can result in better solutions and products. Companies that value and actively promote diversity in their IT projects will likely see a range of benefits that will help them to be more successful in the long run.