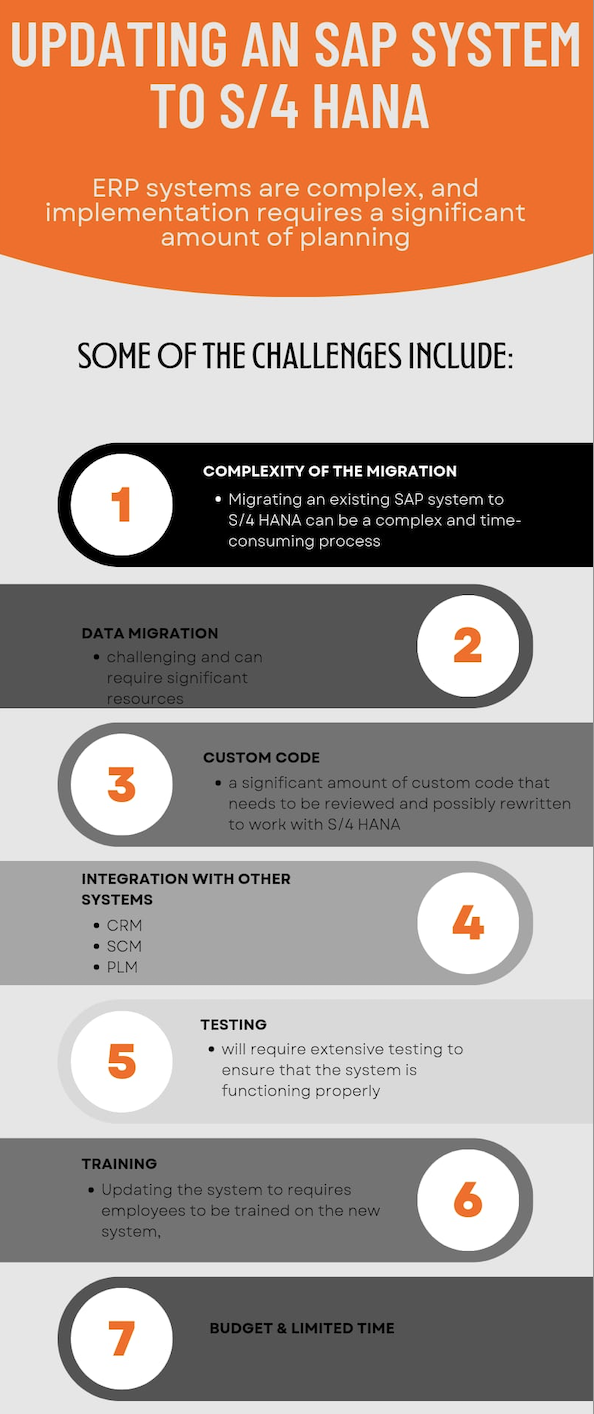 Updating an SAP system to S/4 HANA can be a complex and challenging process, and there are several potential challenges that organizations may encounter. Some of the challenges include:
Complexity of the migration
Migración de datos
Custom code
Integration with other systems
Testing
Training
Budget
Limited time
Complexity of the migration: Migrating an existing SAP system to S/4 HANA can be a complex and time-consuming process, requiring significant technical expertise and planning.
Data migration: The process of migrating large amounts of data from the existing system to S/4 HANA can be challenging and can require significant resources.
Custom code: Organizations may have a significant amount of custom code that needs to be reviewed and possibly rewritten to work with S/4 HANA.
Integration with other systems: S/4 HANA may require integration with other systems, such as CRM, SCM, and PLM, which can add complexity to the migration process.
Testing: The migration process will require extensive testing to ensure that the system is functioning properly and that data has been migrated correctly.
Training: Updating the system to S/4 HANA requires employees to be trained on the new system, this process can be challenging as it requires significant time and resources.
Budget: Updating an SAP system can be expensive, and many organizations may not have the budget to devote to it. This can lead to a lack of funding or manpower to implement the update.
Limited time: Updating an SAP system can be time-consuming, and many organizations may not have the time to devote to it. This can lead to a