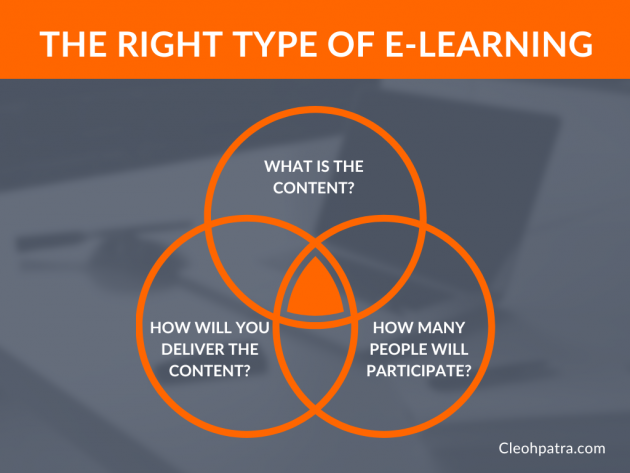 As it is the case for people, each organization is different, and therefore have different needs. This applies to E-learning needs of your organization as well. Due to its digital nature, E-learning can be modified to best meet your needs. However, it is up to you to decide what is it that you need. In order to make an educated decision, types of E-learning and their pros and cons are explained below:
What is the content?
Fixed E-Learning
As the name suggests, fixed E-Learning has a "fixed" content throughout the learning process. To elaborate, in this method, instructors predetermine the curriculum and the materials, all participants receive the same content at the same pace.
Pros: It is time efficient, easier to set up, easier to implement
Cons: It is not flexible, no regard for individual needs and abilities
Adaptive E-Learning
This method of E-Learning puts the individual needs of the participants first. Instructors design the learning tools, the content, and the pace of learning depending on the needs and abilities of each individual participant. This tailor-made approach allows the participants to change it up whenever they feel their learning experience need a tweak.
Pros: It is flexible, personal needs of participants are in focal point, personalized learning experience
Cons: Workload of instructors are very high, time-consuming
How will you deliver the content?
Linear E-Learning
In a linear E-learning approach, information is passed from sender to receiver in a one-way manner. When the information is received, its pace, and its context are all determined by the sender, and the receiver has no chance to provide any sort of feedback to the sender. Some examples to this method can be tutorial videos, handbooks, or learning from TV.
Pros: Always available, easy to address high number of participants
Cons: One-way communication, no feedback, outdated
Interactive E-Learning
In this type of learning, as the name suggests, there is a two-way communication chance. Participants can communicate with the instructors freely and this allows for an opportunity to modify the learning experience as needed. Traditional classroom learning can be a good example. Also, the newly introduced online classes with clients that allow voice or chat inputs are all platforms for interactive E-Learning.
Pros: Open communication, participants have a say
Cons: Not suitable for large number of participants
How many people will participate?
Individual E-Learning
In individual E-Learning, participants study the learning materials on their own. This means they have no peer communication, and the main motivation lies with the participant's self.
Pros: Can help in personal goal achievement, No pressure from peers or instructor
Cons: No communication, isolation, no follow-up, hard to keep motivated
Collaborative E-Learning
Teamwork is the key word in collaborative E-Learning. In this method participants try to achieve their learning goals as a group, and by doing so, they practice teamwork. Communication skills and team working abilities of group members are crucial in achieving the learning goals. It relies on a combined effort by the participants for successfully completing the course, for that reason, knowing each other's strengths, weaknesses, and utilizing them to the best is essential.
Pros: Promotes teamwork and communication
Cons: Some participants might slack off
The way we learn is changing
Technology is developing at an ever-increasing pace, and your business has to keep up. Introduction of new ERP systems -whether it be for your organization, or implemented because you need integration with a customer's system- is almost a must. Every "new" system has a learning curve, and E-learning can assist the employees and decision makers alike, in this journey towards innovation and improvement. The most important issue in this process is choosing the right method for your organization, considering its needs and characteristics.